Benjamin Gunst
Tips to succeed in a date with a Swiss girl if you are a shy person (or gamer)
Xanaphia is living in Luxembourg now. Since she moved here, it took us two weeks to meet. First of all, I didn't want to feel needy (yes, I was a bit insecure), and she wasn't texting fluently. So I took my time before asking her on a date.
It was incredible, fluent, and felt like the time passed too fast when we met. I also thought that I had met her for a hundred years. The key to my success was the preparation, so please take note of my tips.
Dating Swiss girls is like dating any other girl but punctual
Don't be scared about their cultural heritage; when a woman agrees in going on a date with you, it means that they are interested in what you have to offer. The only thing that you should take into consideration is punctuality. Swiss people don't understand being late if you have a commitment, so better be ready 15 minutes before, in case any unpleasant event occurs.
How to Prepare yourself for a date with a Swiss girl


Take a shower, brush your teeth and use a good perfume. This sounds a bit obvious, but there are people out there - like me- that forgot to do it from time to time. Remember to do it for yourself because you want to look good for yourself, not because you will meet someone. Don't put more pressure on yourself! Tell yourself that you like to look good because you are handsome (And believe it!)
Preparing some questions before the date to decrease your anxiety


It doesn't seem nice to arrive with an agenda, but having drafted some questions beforehand will help you overcome unpleasing silences.
You can ask uncomplicated questions such as: What brought you here? What are your travel plans?
You can also try to get more extended responses with questions such as: What's your guilty pleasure? What advice would you give your 18-year-old self knowing what you know now?
Lastly, depending on the chemistry level you are experiencing, you can also try more profound questions: For what you are most grateful for today? What is a dream you have that you've yet to achieve? Are you in the Panama Papers? (hahahaha no, I am joking!)
How to take away your anxiety on a date


Don't overthink everything you do. You are a perfect human being the way you are, so if you receive any unwanted feedback during the date, maybe this person is not appropriate for you. Anyhow, many couples have ended together after some catastrophic first encounters, so the most important is that you can be yourself. The more authentic you are with a person, the easier the connection will be.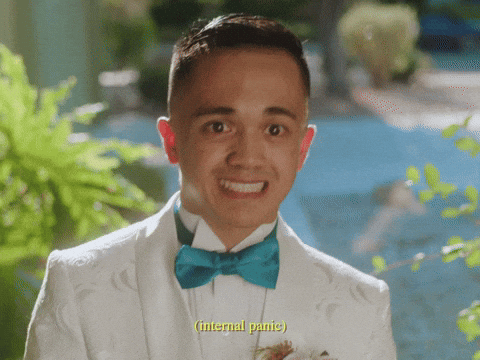 It is also ok to say that you are shy or feel anxious. One of the reasons could be because "you are super beautiful." By doing so, you compliment the other person, and you are relieving the stress that might cause you to try to leave a good impression.